Dinner in Restaurant

Central Italy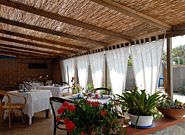 La Pineta - Marina di Bibbona
Careful attention in every details, beautiful tables elegantly set and separated from each other, among which a well instructed staff of attenderst assists the cliest very well. A very interesteing wine list is also full of wines of the coastal region.


Vissani- Baschi
There are no other restaurans in italy where you can arrive to spend as much as here, and there are no restaurants in italy where you can eat as good as here. This is the necessary premis to comprehend the unicity of this restaurant that always surprises everyone. People come here to have a gastronomic experience that is unforgettable, to try a cusine that has no equals.

Agata and Romeo - Rome
In every detail here you can tell the big passion that Agata and Romeo put in their job, helped by their daugther, starting from the esquisite service, to the rich wine and liquors list, as also to the great chef Agata, wordly famous.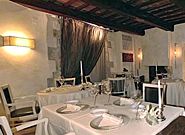 Caino - Montemerano
There's a relaxed, country atmosphere to this small family restaurant located in the medieval village of Montemerano. There's a relaxed, country atmosphere to this smali family restaurant. Owner Maurizio Menichetti takes care of the service and the wine cellar. His wife, Valeria Piccini, is in charge of the kitchen. The food is outstanding. It is 100 percent cucina Toscana. Traditional antipasti include small pieces of toast with chicken liver páté and tripe salad with beans, olive oil and thyme; among the classic main courses are grilled sliced steak covered with truffles and roasted lamb with a confit of garlic. The Chef Piccini gives a light touch to everything she does. She cares deeply about her ingredients, and attempts to source the best of everything, from local pecorino cheese and seasonal vegetables to hand-raised lamb.

La Madonna Del Pescatore-Marzocco
The restaurant of Moreno and Mariella Cedroni proposes an enthusuastic and innovative cusine, fresh and light, with preparations and tastes meetings here and unknown until today. Curiosity, richness and variety of the menus makes it difficult the actual choice and this is why they suggest small tasting of all the menu.


La Tenda Rossa - Cerbaia
Restaurants like this belong to the word of myth and are a confirmation of high level restauration. On the tables you can find artistic bronze sculture which add originality and class to them. The dishes, peculiarly innovative, find their inspiration in the enogastromonic veriety of the family memory, and are unique for the coherent and armonious use of the territory products, for the capable rivisitation of the traditional recepies, and the particular aromatic accents.

Osteria di Passignano - Badia a Passignano
This is a famous restaurand owned by the Antinori Family, great wine producers all over Italy. This is located under the elegal shadow of the church of Passignano, where it is possible to taste a delighting tuscan cusine riviewed by the chef Marcello Crini. Here it is also possible to have olive oil tastings.

Taga Biostrot Fiorentino- Florence
Passion, enthusiam and a little "savoir faire" are the important ingredients of the recepy of Targa. The task of this restaurant is to allow you to spend a stressfree time, relazing, which can easily let go the problems related to work or love, and can just complete a renissance path. Here you can breeth the typical American "west coast" style; wood, continuos evolutions of nature around, theatrical lighting, all this makes Targa Bistrot the perfect scene for informal or romantic gatherings. Spending a few hours there means to assist to special experiences, games of light, view, as also to be part of a cusine which is fluently refined, executed to cohexist, or maybe born together, with the surrounding environment. .