Dinner in restaurants


Norhter Italy

Il Luogo di Aimo e Nadia - Milano
The philosophy of this restaurant can be summered up in 3 qualities: Intense, light and balanced. Together with a careful choice of the prime matter to cook, this central idea explains the cusine by Nadia and her constance in quality.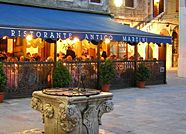 Antico Martini - Venice
This is a great classic of Venetian restoration, and is manager by the Baldi family since 1921 (today at at his third generation), and has a splendid position in the center of the city, an elegant atmosphere, and very good service.


Dal Pescatore - Canneto Sull'Oglio
Splendid ambient, extremely refined, but yet very confortable to make you feel "at home" as you enter: large tables distant from each other, view on the delightful garden, many fresh flowers. The welcoming is among the best, and you feel always cuddled but the international team of the restaurant. The wine selection is rich in rare bottles and unique liquors.

Ambasciata - Mantova
This is a unique place, with splendid refined curtains which bring so much class to the ceilings, cascades of multicolor fresh flowers, sparkling silverware, high class purcellane and cristals.

Guido- Costigile D'asti
A true myth of the Piemontese cooking tradition. Its many successfull factors are the highest quality of the prime matter for cooking, the deep research of these products which are nowadays very rare, and the technic with which these disches are cooked, apparently simple but in many cases absolutely perfect. The added value is the charming and relaxed atmosphere, the true elegance of a good service, and the sincere welcome with which every client is welcomed.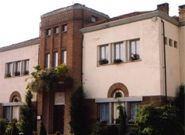 La Ciau Del Tornavento - Treiso (Cuneo)
The diches are always rich well composed and stimulating. Upon the time of the year and request, they offer meat or fish, modern or very traditional cusine, but always interestingly crossed by the use of spices and erbs.


Il Desco - Verona
Entering this so famous restaurant and yet feel instantaneously welcomed: this is the most important quality of the Desco. Here you can confortaly seat at the elegant seats and conforted by a soft music, a good illumination, and the ability to choose on a well done list of wines.

Paolo Teverini - Bagni di Romagna
Here you can find an enciclopedi list of wines, rich with rare and well selected labels. The bread is home made, the canapè just done in the kitchen, the pre-desser, the desser, the fraindises, rums, liquors, all to enjoy confortably seated : what needs to be said more?