The Mall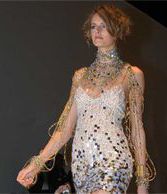 The center now hosts: Agnona, Alexander McQueen, Armani Jeans, Balenciaga, Bottega Veneta, Burberry, Emanuel Ungaro, Ermenegildo Zegna, Fendi, Giorgio Armani, Gucci, Hogan, I Pinco Pallino, La Perla, Loro Piana, Marni, Pucci, Salvatore Ferragamo, Sergio Rossi, Stella McCartney, Tod's, Valentino, Yohji Yamamoto, Yves Saint Laurent.

In the future The Mall will expand with the addition of other prestigious brands.

Is a thirty-minute drive from florence, in the green Tuscan hills.

OPENING HOURS: Monday- Sunday 10,00am / 7,00pm

The complex also includes a cafè restaurant: and "FIRENZE A TAVOLA".

FIRENZE A TAVOLA: formed by a group of agricultural and food companies based in tuscany, it aims to promote member exports by means of a series of initiatives to strengthen and increase their presence on international markets.