A countryside with the characteristics of a work of art, a natural amphitheatre where architecture and landscape perfectly fuse together: this is the enchanting scene which we behold in the hills of Pian dei Giullari.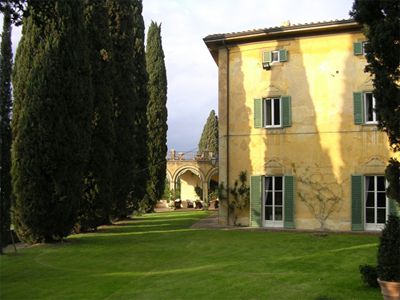 From here the villa overlooks Florence and opens its doors to all of those who wish to spend a holiday in a complete relaxtion only a few kilometres from the historical centre of town.
The house has great charm and elegance, typical of Tuscan villas.

Thanks to its scenic position, its 19th century character, its large hall and the park which surrounds it, the villa is often chosen for conferences and congress, inaugurations, dinner dances, buffet, breakfast and branches and all of the other special occasion which should not be forgotten.
The sandstone staircase leads to the five double rooms which are all beautifully furnished, with extreme attention having been given to every detail:
the Newly-weds' Bedroom; the Bedroom of the little Balcony; the Bedroom of the flowers; the Four-poster Bedroom; and The Grand - parents' Bedroom, this is a Suite with a spacious terrace, with a panoramic view on Florence, bathroom with shower and tub, queen bed; nearby small bedroom where there is the possibility of an extra single bed.
The villa is 15 minutes and 180 steps far from the Mulini square in Positano, where you can also leave the car.
Villa Oliviero is available for 9 people plus an extra room for max 11 people.
The Villa has been built on the rocky ridge above the sea and is based on four level: the access through a big garden with a dining room with an ancient fireroom and the main bedroom with the bath ad a huge kitchen. On the second level 2 double bedroom with bath.
Outside there's a gorgeous dependance for 3 people with bath. At the last floor under a big olive grove tree there's the pool with a fantastic view over Positano and water.
five double rooms (1 suite)
swimming pool
parking inside the property
gym
shuttle service
speak English and French
Free accommodation is offered to children under the age of three
Small and well-behaved dogs are welcome